Outdoor Buddies
For the Outdoor Adventure Experience!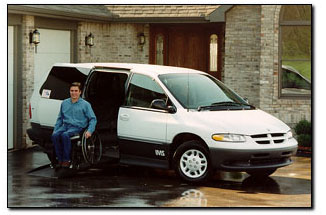 When a motorcycle accident left him with a broken back, Rick Lankford thought he'd never hunt or fish again. At age 25, he was confined to a wheelchair. For a while, he thought his life was over and he honestly admittted he "hated the world."
More than a decade later -- after more than 40 operations and steel imbedded in his body from both hips to both shoulders -- Lankford has found renewed hope through Outdoor Buddies. It is no exaggeration when he says the program's annual hunting and fishing trips may be keeping him alive.

Buddy Power!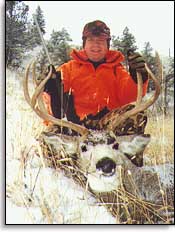 Nearly 800 people have signed up to participate in Outdoor Buddies, a Denver, Colorado-based program that provides outdoor opportunities for people with physical disabilities and underprivileged youths. Launched in 1986, Outdoor Buddies is a non-profit organization, relying on volunteer hunters and anglers who help the disabled and youths enjoy the best of what Colorado's natural resources have to offer. For the physically disabled, the program gives them a chance to take part in outdoor adventures some thought they'd never be able to do again. Disadvantaged youths, many with troubled home lives or emotional problems, are exposed to alternatives to drugs, alcohol abuse, and gangs.
Outdoor Buddies hosts a variety of outdoor activities -- hunting, fishing, archery, shooting, camping, canoeing, outdoor survival, and wildlife photography. There are no dues or fees for the activities. Other than fishing and hunting license fees, some transportation costs and personal expenses, the program is free. Often generous landowners will let Outdoor Buddies groups hunt or fish on their property at no charge. Local communities and Colorado State Parks also participate in the program, allowing Outdoor Buddies to venture all across "Colorful Colorado" in search of challenging and exciting outdoor experiences!

How you can help!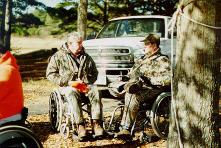 Outdoor Buddies is funded entirely by donations and grants from groups such as the Colorado Wildlife Commission. You can help by becoming a sponsor. Tax deductible donations from individuals, sportsmen's groups, service organizations, corporations and fund-raising events are crucial to Outdoor Buddies' future.
We also need volunteers! If you are able-bodied and experienced in outdoor, wildlife-related activities, you can register as a volunteer. And, you can help by opening your land or facilities for Outdoor Buddies' outings. For information about Outdoor Buddies, call or write:

Outdoor Buddies, Inc.
P.O. Box 37283
Denver CO 80237
(303) 771-8216
Or, send an email message to Outdoor Buddies at outbud@juno.com. You may also email any suggestions or comments about this website to steve_murdock@fnmail.com. And don't forget to sign the Outdoor Buddies Guest Book!

More Disabled Hunting/Fishing Links:
Yahoo Disabled Hunting & Fishing Club
Hunting Information Systems Disabled Hunters Forum
Shooting & Fishing Rigs for the Disabled
Colorado Division of Wildlife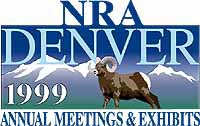 These pages are copyright ©1999 by Outdoor Buddies, Inc. and have been viewed times!